Alive II is a 1977 live album from KISS. It is the group's eighth album and second live album.
In His Own Words
Edit
"I thought Alive 2 was good. There was just something about your first live record that was kinda special. Alive 2 was just kind of a sequel. It was a four".
"(Laughing) I dont even remember what those songs were. I think I was out in the Ozone somewhere".
The songs
Edit
The origins of "Alive II" go back to early 1977 when the band's manager, Bill Aucoin, had the idea to have Eddie Kramer record a live album during the evening show at Budokan Hall in Tokyo on April 2, 1977. The plan was to release a live album to give KISS some much deserved time off before recording the album that would become Love Gun later that Fall. Kramer finished work on the album, but Casablanca Records and KISS deemed it unusable, and the band forged ahead with the Love Gun sessions.
Most of the live tracks on Alive II were recorded during the band's August 26-28 residency at the Los Angeles Forum while on the Love Gun tour. The 3:00 PM soundchecks at the August 26 & 27 shows were recorded, and later used on the album (i.e. "Tomorrow And Tonight") with crowd noise being dubbed in later. "Beth" and "I Want You" were lifted from the aborted Japanese live album and used on the finished Alive II.
As the band did not want to duplicate songs included on Alive!, the songs chosen for the three live sides of the album were all drawn from Kiss' three preceding studio albums - Destroyer, Rock and Roll Over and Love Gun.
On the original double album, the songs on side 4 (tracks #6-10 on the second CD) are studio tracks. Although Ace Frehley was originally credited for lead guitar on the studio tracks, the remastered version released in 1997 confirmed what had been speculated by Kiss fans for years - Bob Kulick actually played lead guitar on three tracks ("All American Man", "Rockin' In The U.S.A." and "Larger Than Life"), not Frehley. Frehley's sole involvement for the studio songs was to handle all guitars and bass guitar for "Rocket Ride." Paul Stanley played all guitars on "Any Way You Want It" which was originally recorded by the Dave Clark Five in 1965.
Promotional Items
Edit
The original vinyl issue of Alive II was a 2LP set, in a gatefold sleeve, with picture LP-liners. Continuing the Kiss tradition of including promotional items with their albums, Alive II was packaged with a booklet entitled "The Evolution of Kiss" and a set of rub-on tattoos in a cartoon-style. The tattoos depicted the band logo, Kiss Army logo, band member heads, member signatures and symbols. The symbols were meant to represent the four personas of the group and included a skull and crossbones for Simmons, a rose and star with eye for Stanley, a Saturn-like planet and block print-style 'ACE' for Frehley and a drum and cat's head for Criss. The rose and 'ACE' are copies of Stanley and Frehley's actual tattoos respectfully.
A merchandise order form was also included with the album. It listed an array of official Kiss merchandise, as well as a chance to "enlist" in the Kiss Army.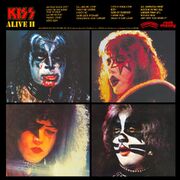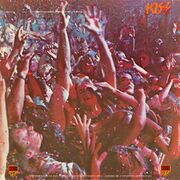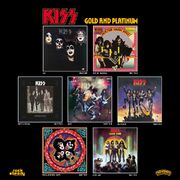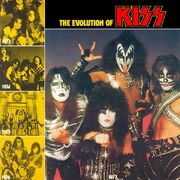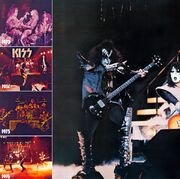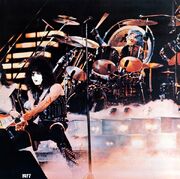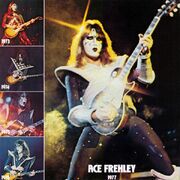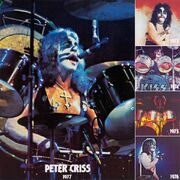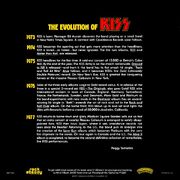 Re-release
Edit
Alive II was issued as a 2CD set in what has now become known as a 'fatboy' 2CD case. When the Kiss back-catalogue was remastered it was housed in a slimline 2CD case and, in keeping with the rest of the reissue programme, had the artwork restored. This included the set of tattoos. The booklet 'The Evolution Of Kiss' and the picture-liners were now incorporated as part of the CD booklet.
Most recently, Alive II was re-released in 2006 as part of the Kiss Alive! 1975-2000 box set (also featuring Alive!, Alive III and Alive! The Millennium Concert). It includes Rock And Roll All Nite (Single Edit Version) as a bonus track. The short running-time of Alive II allowed for a single CD edition in this latest release.
Tracklisting
Edit
Detroit Rock City ··· (3:58) - Stanley/Ezrin
King Of The Night Time World ··· (3:06) - Fowley/Anthony/Stanley/Ezrin
Ladies Room ··· (3:11) - Simmons
Makin' Love ··· (3:13) - Stanley/Delaney
Love Gun ··· (3:34) - Stanley
Calling Dr. Love ··· (3:32) - Simmons
Christine Sixteen ··· (2:45) - Simmons
Shock Me ··· (5:51) - Frehley
Hard Luck Woman ··· (3:06) - Stanley
Tomorrow And Tonight ··· (3:20) - Stanley
I Stole Your Love ··· (3:36) - Stanley
Beth ··· (2:24) - Criss/Penridge/Ezrin
God Of Thunder ··· (5:16) - Stanley
I Want You ··· (4:14) - Stanley
Shout It Out Loud ··· (3:37) - Simmons/Stanley/Ezrin
All American Man ··· (3:13) - Stanley/Delaney
Rockin' In The U.S.A. ··· (2:44) - Simmons
Larger Than Life ··· (3:55) - Simmons
Rocket Ride ··· (4:07) - Frehley/Delaney
Any Way You Want It ··· (2:33) - Clark
Personnel
Edit
Paul Stanley - rhythm guitar, lead vocals
Gene Simmons - bass, rhythm guitar on "Larger Than Life", lead vocals
Ace Frehley - lead guitar, bass on "Rocket Ride", vocals
Peter Criss - drums, vocals with
Bob Kulick - lead guitar on "All American Man", "Rockin' in the U.S.A.", and "Larger Than Life" Ed Balandas - The Introduction "Voice"
Release Details
Edit
Casablanca/Astor NBLP-7076 (Australia, 12/5/77)
Mercury/PolyGram 822 781-2 (Australia, 2/95 Special Reissue w/ EP)
Casablanca/PolyGram NBLP-7076 (Canada, 1977)
Casablanca/Phonogram 6685-043 (Europe)
Casablanca/Vogue CBLA-72005/6 (France, 1977)
Casablanca/Bellaphon NB-7027 (Germany, 1977)
Casablanca/Phonogram 6685-043 (Germany, 1980)
Casablanca/Phonogram CALP-5014/15 (Italy, 1980)
Casablanca/Victor VIP-9529/30 (Japan, 1977 - Gatefold Cover)
Casablanca/Polystar 19S-3/4 (Japan, 1980)
Polystar R32C-2030/31 (Japan, 1984)
Polystar (Japan, 1987 - CD Reissue)
Mercury PHCR-10023/24 (Japan, 1997 - CD Remaster)
Mercury PHJR-20010/11 (Japan, 7/15/1998 - Colored Vinyl Box Set)
Universal/Mercury PHCR-94057/58 (Japan, 9/19/1998 - CD Remaster Reissue)
Universal/Mercury UICY-2365 (Japan, 9/21/02 - Reissue)
Universal/Mercury UICY-93098/99 (Japan, 7/5/06 - Limited Edition)
Universal/Mercury UICY-6645/6 (Japan, 12/20/06 - Reissue)
Casablanca/Gamma GX-01-970 (Mexico, 1977)
Casablanca/PolyGram LPR-43011 (Mexico, 1978)
Casablanca NAD-7040 (South Africa)
Casablanca/Pye CALD-5004 (UK, 11/77 * also as red vinyl)
Casablanca/PolyGram 822 781-2 (UK, 5/89 - CD reissue)
Casablanca NBLP-7076 (US, 11/28/77)
Casablanca/PolyGram 822-781-1/2/4 (US Reissue 7/85, CD, 7/7/87)
Mercury 532-382-2/4 (US Remaster, 8/12/97, inc. tattoos & booklet reprint)
RIAA: 2X Platinum (album purported to be 4X Platinum, but uncertified at that level)
Community content is available under
CC-BY-SA
unless otherwise noted.