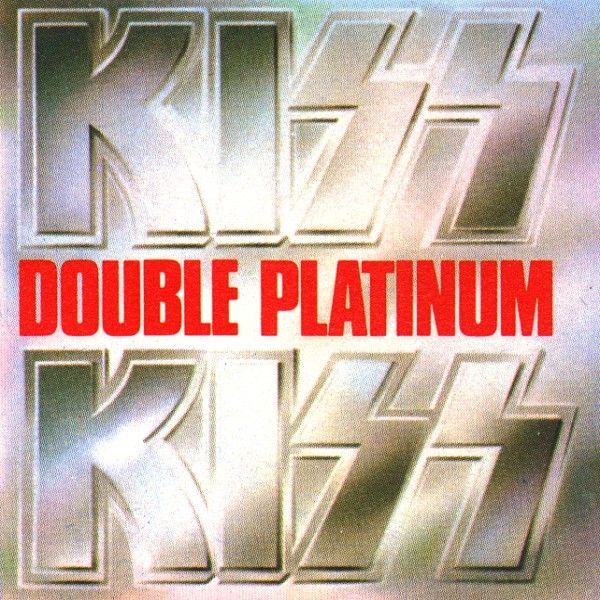 Double Platinum is the first greatest hits album by the American hard rock band Kiss.
Many of the songs on Double Platinum were remixed and significantly differ from their original versions. In the case of "Strutter," its drum track was re-recorded with a slight disco feel as "Strutter '78." Other songs ("Hard Luck Woman," "Detroit Rock City") had sections completely removed, while the beginning of "Black Diamond" was repeated at the end, fading out at the start of the first verse and giving the song a "wrap around" feel.
The original vinyl release, in a gatefold-sleeve, had an embossed, silver-foiled sleeve, with the band members in bas-relief inside. The album was packaged with a printed "Platinum Award" thanking the Kiss Army for making the band a "Double Platinum Success". Later reissues would retain the gatefold-sleeve but replaced the logo with a printed, red-type version and the band members were now represented inside by photos rather than the bas illustrations. When the album was remastered for CD in the US it mimicked the original vinyl.
The album was certified Platinum on May 16, 1978 by the RIAA, ironically it never reached Double Platinum status. In Canada it was certified Gold on June 1, 1978 after selling 50,000 copies.
"Sean Delaney and Mike Stone did alot of remixingof the songs and we werent there at the time. I think it could have been done better. Three stars".
I thought it was kind of a silly thing todo because I dont think the new versions were different. It was just extended solos and what not".
Strutter '78 (3:41) - Simmons/Stanley
Do You Love Me? (3:33) - Fowley/Ezrin/Stanley
Hard Luck Woman (3:24) - Stanley
Calling Dr. Love (3:20) - Simmons
Let Me Go, Rock 'N Roll (2:15) - Simmons/Stanley
Love Gun (Song) (3:27) - Stanley
God Of Thunder (4:30) - Stanley
Firehouse (3:20) - Stanley
Hotter Than Hell (Song) (3:30) - Stanley
I Want You (3:02) - Stanley
Deuce (3:02) - Simmons
100,000 Years (3:24) - Simmons/Stanley
Detroit Rock City (3:35) - Stanley/Ezrin
Rock Bottom Intro (0:52) - Frehley
She (4:34) - Simmons/Coronel
Rock And Roll All Nite (2:45) - Simmons/Stanley
Beth (2:45) - Criss/Penridge/Ezrin
Makin' Love (3:12) - Stanley/Delaney
C'mon And Love Me (2:54) - Stanley
Cold Gin (4:31) - Frehley
Black Diamond (4:14) - Stanley
Gene Simmons – bass guitar, lead vocals
Paul Stanley – rhythm guitar, lead vocals
Ace Frehley – lead guitar, backing vocals
Peter Criss – drums, lead vocals
Casablanca NBLP-7100 (US, 4/2/78)
Casablanca/PolyGram 824-155-1/2/4 (US Reissue 7/85, CD, 7/87)
Mercury 532-383-2/4 (US Remaster, 9/14/97)
Community content is available under
CC-BY-SA
unless otherwise noted.