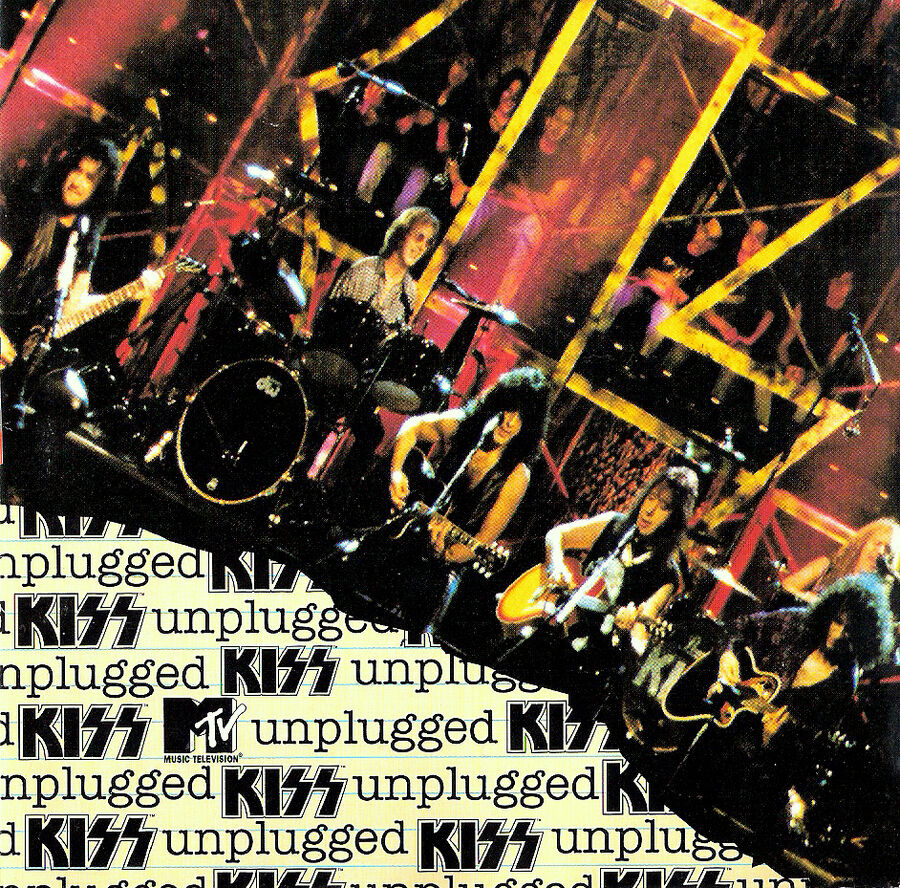 Kiss Unplugged is a Kiss album featuring the group performance in MTV Unplugged.
On August 9, 1995, hard rock band Kiss performed on MTV Unplugged in what fans consider the beginning of the eventual Kiss Reunion Tour. Paul Stanley and Gene Simmons contacted former members Peter Criss[ and Ace Frehley and invited them to participate in the event. Fan reaction to Criss and Frehley at the Unplugged show was so positive that, in 1996, the original lineup of Kiss reunited, with all four original members together for the first time since 1979. It also marked the only time the original lineup performed live without their trademark makeup, other than at Ace Frehley's wedding, and was also the only time Frehley and Criss shared a stage with Eric Singer and Bruce Kulick. Further, it was the first time Eric Singer had part of a lead vocal (shared with Peter Criss on Nothin' To Lose).
On March 12, 1996, the concert was released on CD, and on December 18, 2007, the Kissology Volume Three: 1992–2000 DVD set was released. This included the original DVD release of the concert plus five previously unreleased songs: "Hard Luck Woman" (with Paul Stanley on vocals), "Heaven's on Fire," "Spit," "C'mon and Love Me" and the infamous country version of "God of Thunder."
The LP version of this album includes a poster and some were pressed on yellow marbled vinyl.
In His Own Words
[
]
"I only worked on a few songs. It was pretty cool. I had fun playing Beth acoustically. Eric and me have become very close friends. I dont feel like I have to rate my own work becasue I never think Im playing well enough. All I can tell you is my favorite kiss song is Deuce and my least favorite is I was Made For Lovin' You (laughs)".
Quotes taken from the book

KISS:Behind the mask
Tracklisting
[
]
Comin' Home (2:21) - Stanley/Frehley
Plaster Caster (3:17) - Simmons
Goin' Blind (3:37) - Simmons/Coronel
Do You Love Me? (3:13) - Fowley/Ezrin/Stanley
Domino (3:46) - Simmons
Sure Know Something (4:14) - Stanley/Poncia
A World Without Heroes (2:57) - Stanley/Ezrin/Reed/Simmons
Rock Bottom (3:20) - Stanley/Frehley
See You Tonight (2:26) - Simmons
I Still Love You (6:09) - Stanley/Cusano
Every Time I Look At You (4:43) - Stanley/Ezrin
2,000 Man (5:12) - Jagger/Richards
Beth (2:50) - Criss/Penridge/Ezrin
Nothin' To Lose (3:42) - Simmons
Rock And Roll All Nite (4:20) - Simmons/Stanley
Got To Choose (4:01) - Stanley
Got to Choose is only available on vinyl and on CD releases in Japan and on volume 3 of the Millennium Collection and The Box Set.
Personnel
[
]
Gene Simmons - acoustic bass guitar, lead vocals
Paul Stanley - acoustic guitar, lead vocals
Bruce Kulick - acoustic guitar
Eric Singer - drums, vocals with
Ace Frehley - acoustic guitar, vocals
Peter Criss - drums, vocals
Phillip Ashley - piano on "Every Time I Look at You"
Jon Grindstaff - conductor, string arrangements on "Every Time I Look at You"
Release Details
[
]
Mercury/Polygram 528-950-1/4/2 (US, 3/12/96)
Mercury PHCR-1395 (Japan, 3/2/96)
Universal/Mercury UICY-3860 (Japan, 6/9/05 - Reissue)
Universal/Mercury UICY-01060 (Japan, 9/3/08 - SHM Reissue)