Jurassic World: Dominion Dominates Fandom Wikis - The Loop
Play Sound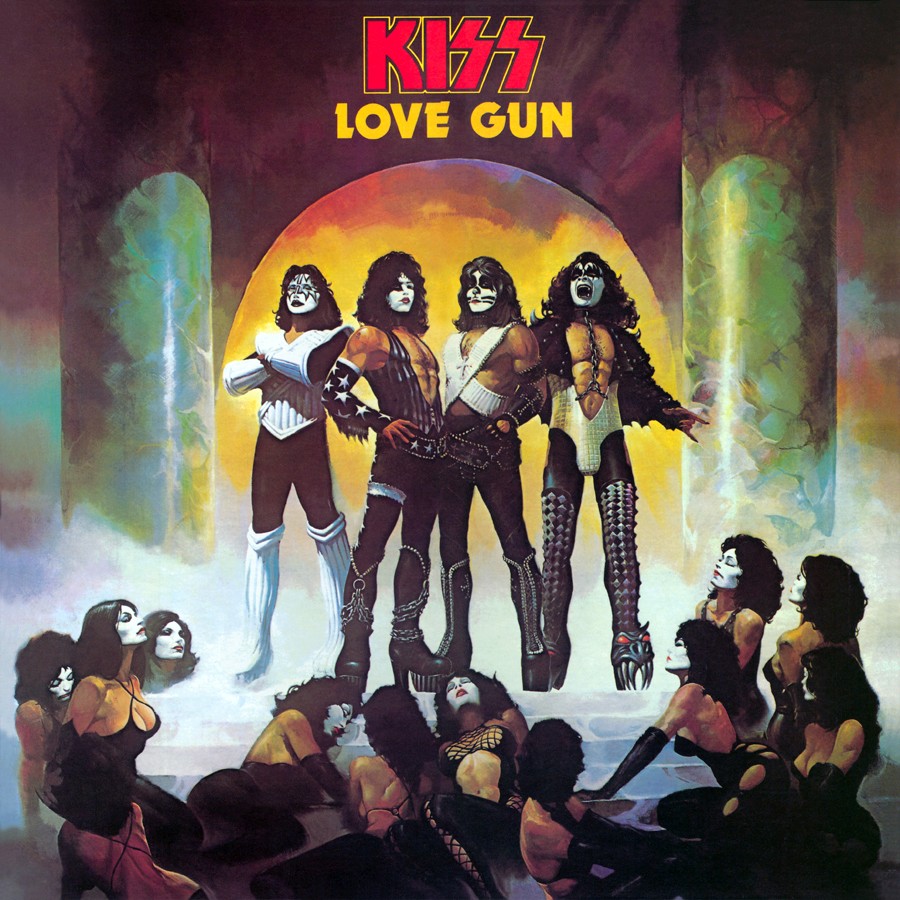 Love Gun is an album by the American hard rock band Kiss. It was certified Platinum on June 30, 1977 when it sold 1,000,000 copies. Love Gun was the second Kiss album to ship platinum, and would eventually achieve triple platinum status.
Love Gun is notable for being the first Kiss album to feature a lead vocal performance from lead guitarist Ace Frehley. This makes Love Gun the first Kiss album to feature lead vocal performances from all four band members. It was also the last album to feature the entire original lineup of Kiss on every track, as drummer Peter Criss was replaced by session drummer Anton Fig for much of 1979's Dynasty.
A cardboard "Love Gun" (assembly required) was included inside the album, along with a Kiss merchandise order form.
In His Own Words
[
]
"I thought Love Gun was a good record. Every album we did we learned more. Eddie Kramer taught me alot. It was a four. I was real happy with the way Shock Me came out".
Quotes taken from the book

KISS:Behind the Mask
Tracklisting
[
]
I Stole Your Love ··· (3:04) - Stanley
Christine Sixteen ··· (3:12) - Simmons
Got Love For Sale ··· (3:28) - Simmons
Shock Me ··· (3:47) - Frehley
Tomorrow And Tonight ··· (3:38) - Stanley
Love Gun ··· (3:16) - Stanley
Hooligan ··· (2:58) - Criss/Penridge
Almost Human ··· (2:48) - Simmons
Plaster Caster ··· (3:25) - Simmons
Then She Kissed Me ··· (3:01) - Barry/Greenwich/Spector
Cover art
[
]
The album cover was painted by fantasy artist Ken Kelly who previously did the cover for 1976's Destroyer.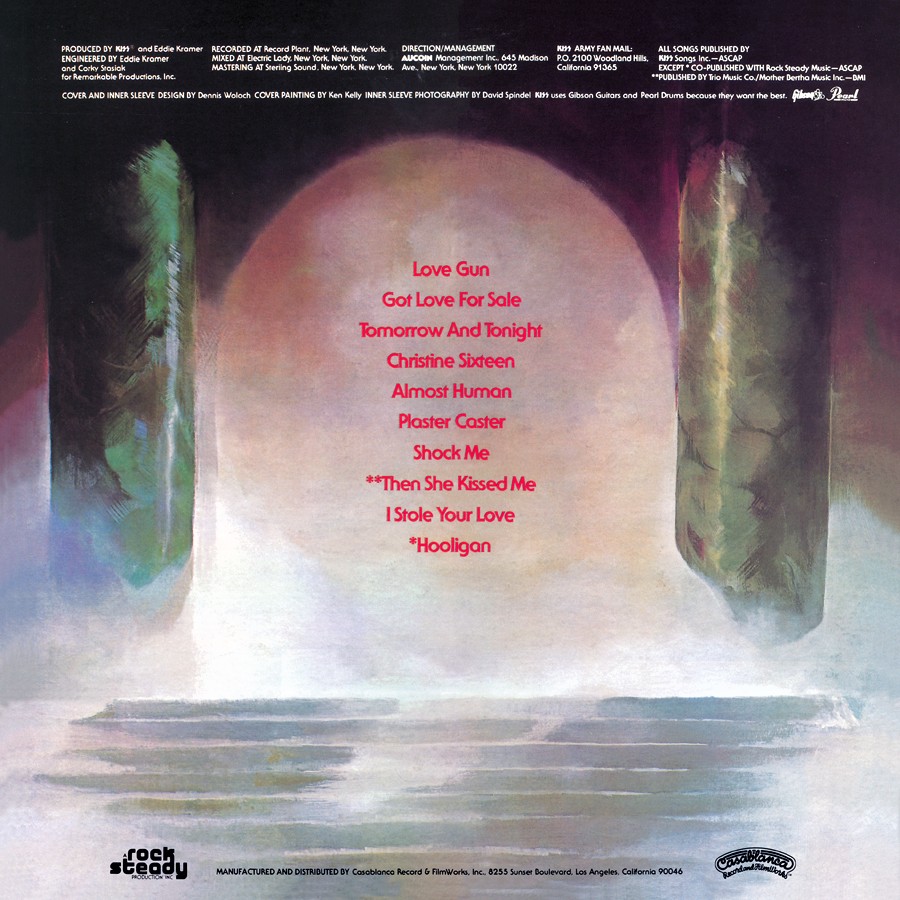 Personnel
[
]
Paul Stanley - lead vocals, rhythm guitar; bass guitar on "Love Gun"
Gene Simmons - lead vocals, bass guitar
Ace Frehley - lead guitar, vocals
Peter Criss - drums, percussion, vocals
Eddie Kramer - piano on "Christine Sixteen"
Release Details
[
]
Casablanca/Microfon SUP-878 (Argentina, 1977)
Casablanca/Astor NBLP-7057 (Australia, 7/18/77)
Casablanca/Quality NBLP-7057V (Canada, 1976 - w/ gun & inner)
Casablanca/Phonogram 6399-063 (Europe & Americas)
Casablanca/Fediscos LP-28509 (Ecuador, 1983)
Casablanca/Vogue CB-71017 (France, 1977)
Casablanca/Bellaphon NB-7022 (Germany, 1977)
Casablanca/Phonogram 6399-063 (Germany, 1980)
Phonogram PIC6399-063 (Holland, 1980 - picture disc)
Casablanca/Phonogram CALP-5004 (Italy, 1980)
Casablanca/Victor VIP-6435 (Japan, 1977 - Gatefold Cover)
Casablanca/Polystar 22S-6 (Japan, 1980)
Polystar R00C-2016 (Japan, 1984)
Polystar P33C-20008 (Japan, 1987 - CD Reissue)
Mercury PHCR-4320 (Japan, 1997 - CD Remaster)
Mercury PHJR-20009 (Japan, 7/15/1998 - Colored Vinyl Box Set)
Universal/Mercury PHCR-94045 (Japan, 9/19/1998 - CD Remaster Reissue)
Universal/Mercury UICY-2361 (Japan, 9/21/02 - Reissue)
Universal/Mercury UICY-93097 (Japan, 7/5/06 - Limited Edition)
Universal/Mercury UICY-6644 (Japan, 3/7/06 - Reissue)
Casablanca/Gamma GX-01-949 (Mexico, 1977)
Casablanca/PolyGram LPR-43053 (Mexico, 1980)
Casablanca NAL-7032 (South Africa)
Casablanca/Pye CALH-2017 (UK, 6/77 - red vinyl)
Casablanca/Pye CALH-2017 (UK, 6/77 - black vinyl w/ gun & inner sleeve)
Casablanca/Phonogram PRICE-69 (UK, 5/84)
Casablanca NBLP-7057 (US, 6/30/77)
Casablanca/PolyGram 824-151-1/2/4 (US Reissue 7/85, CD, 7/87)
Mercury 532-381-2/4 (US Remaster, 8/12/97, no gun!)
RIAA: Platinum (album purported to be 3X Platinum, but uncertified at that level)