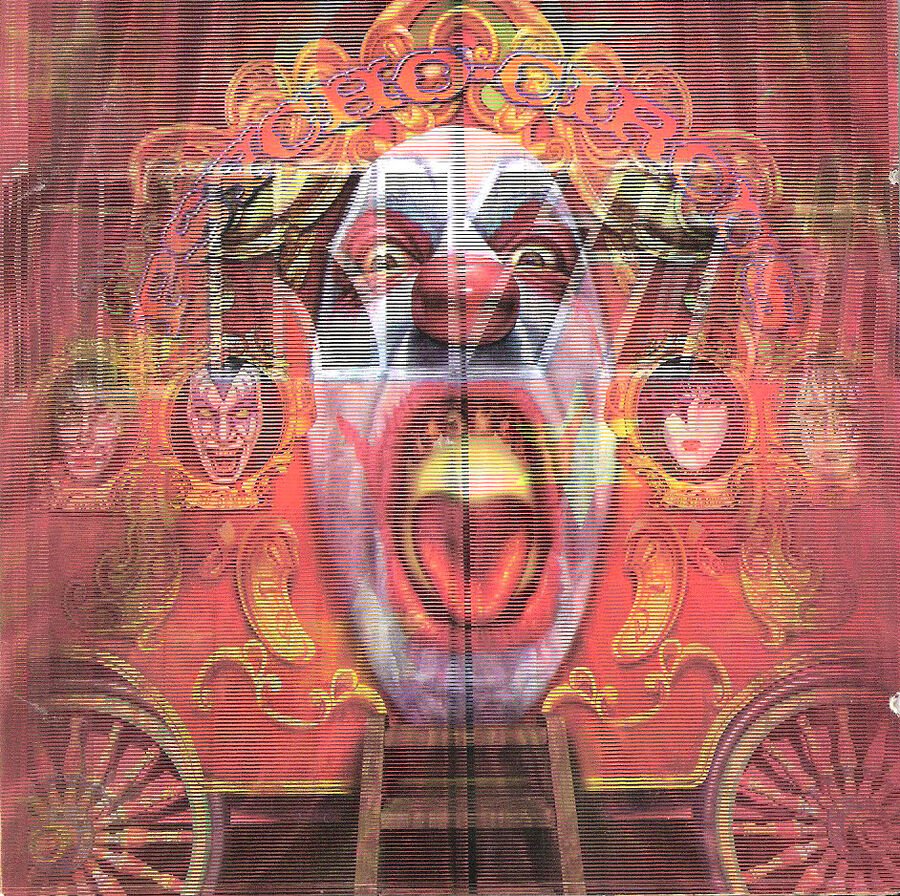 Psycho Circus is a 1998 studio album by the American hard rock band Kiss.
The album features a lenticular cover that alternates between a black Kiss logo and the album title with pictures of a clown and the band members.
The track "You Wanted the Best" is the only Kiss song in which lead vocals are shared by the entire lineup.
In His Own Words
[
]
"Three stars. I think it was a good album. One of the things that probably isn't cool about the album is the fact that Peter and I didn't really play on the record. I would have loved to have played on the whole thing. After we finished the tour, we had taken some time off. They (Paul and Gene) had started working on alot of the things and I didnt even fly out until the songs had already been recorded. I was still working at home on some of my solo stuff. That's one of the things that I think is lacking on the record, that me and Peter weren't involved on alot of the tracks".
"When I write songs I don't really think that much about them. I don't really ponder lyrics. Sometimes I might not write a song for a month or two. Gene Simmons told me he submitted a hundred songs for Psycho Circus and they used four. To me thats insanity. If I start something and I dont think its going anywhere I'm not gonna waste my time to finish it. To me it appears Gene doesn't know the difference between a good and a bad song because to write a hundred songs and not know which one's better than the other doesn't make sense to me".
Quotes taken from the book:

KISS:Behind the Mask
Tracklisting
[
]
Psycho Circus (song) (5:37) - Stanley/Cuomo
Within (5:10) - Simmons
I Pledge Allegience To The State Of Rock And Roll (3:32) - Stanley/Knight/Cuomo
Into The Void (4:22) - Frehley/Cochran
We Are One (4:41) - Simmons
You Wanted The Best (4:15) - Simmons
Raise Your Glasses (4:14) - Stanley/Knight
I Finally Found My Way (3:40) - Stanley/Ezrin
Dreamin' (4:12) - Stanley/Kulick
Journey Of 1,000 Years (4:47) - Simmons
In Your Face (3:40) - Simmons
Controversy
[
]
Following Kiss' highly successful 1996-1997 reunion tour, Psycho Circus was touted as the first studio album by the band's original lineup since 1979's Dynasty (as Peter Criss did not participate on 1980's Unmasked). As with Dynasty and Unmasked, however, many of the songs were recorded by uncredited players. It is now known that guitarist Ace Frehley and drummer Peter Criss were used sparingly, with Criss only playing drums on "Into the Void." (He had also played on only one Dynasty track.) Frehley played on only three songs from the album (not including vocals). In a radio interview with Eddie Trunk following his departure Criss stated that only "Into The Void" featured instrumental contributions from all four members.
The replacement of Criss and Frehley on a Kiss album was nothing new. Frehley had been replaced on songs as early as 1976's Destroyer. Criss was entirely absent from Unmasked, despite being pictured on the album's cover. The same was true for Frehley on 1982's Creatures of the Night. However, at the time of the release of those albums, Kiss managed to keep a lid on the personnel changes: with Psycho Circus, rumours concerning who played what were circulating prior to the album's release. Many Kiss fans voiced disappointment at the ruse, although in that respect it did preserve the tradition of the latter albums released by this line-up the first time around.
Despite the controversy, Psycho Circus was the band's first Top 10 album since 1993's Alive III, their highest placing in the albums chart - at #3[1] and was certified gold.[2] U.S. SoundScan sales of the album total 479,000 copies.[citation needed] "We Are One" peaked at #4 on the Showbizz Magazine (Brazil) radio chart.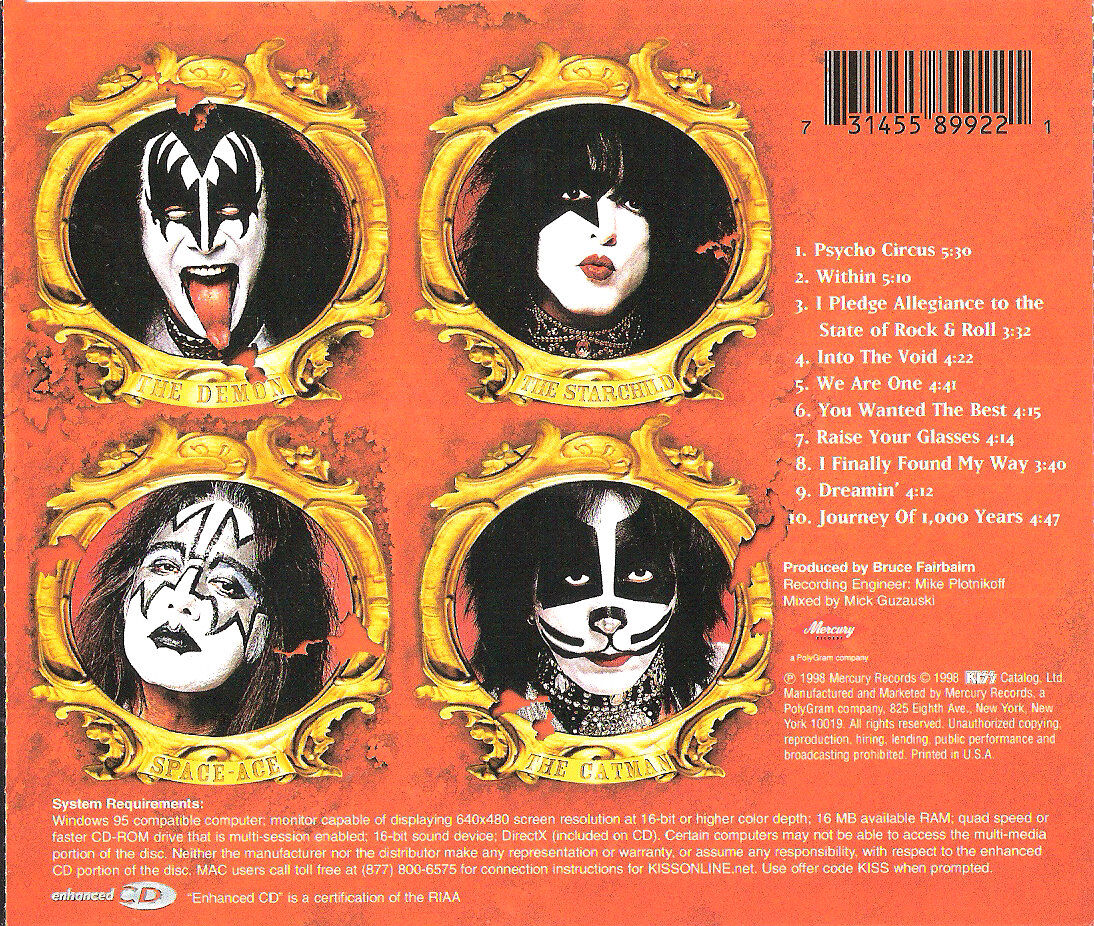 Personnel
[
]
Gene Simmons - Bass guitar; rhythm guitar on "We Are One "; lead vocals
Paul Stanley - Rhythm guitar; lead guitar on "Psycho Circus", "I Pledge Allegiance to the State of Rock & Roll", and "Raise Your Glasses"; bass guitar on "We Are One", "Raise Your Glasses", and "I Finally Found My Way"; lead vocals
Ace Frehley - Lead guitar (credited, but only appears on "Into the Void" and "You Wanted the Best"); lead vocals
Peter Criss - Drums (credited, but only performs on "Into the Void"); lead vocals
Additional Musicians
[
]
Bruce Kulick - Lead guitar on "Within" (intro)
Tommy Thayer - Lead guitar
Kevin Valentine - drums on all tracks except "Into The Void"
Bob Ezrin - Fender Rhodes on "I Finally Found My Way"
Shelly Berg - Piano on "I Finally Found My Way" and "Journey of 1,000 Years"
Release Details
[
]
Mercury/Phonogram 8DC-P9048 (Japan, 7/98 - Promo)
Mercury/PolyGram MEAD-169 (USA, 7/98 - Promo)
Mercury/PolyGram 558-992-2/4 (USA, 9/22/98)
Mercury/Phonogram PHCR-90007 (Japan, 9/18/98 - 3D Pop-Up Cover)
Mercury PHCR-1675 (Japan, 9/20/98 - Fold-out cover)
Universal/Mercury UICY-3862 (Japan, 6/9/05 - Reissue)
Universal Music UICY-6478 (Japan, 10/18/06 - Reissue)
Mercury/Phonogram 538 137-2 (Germany, 1998)