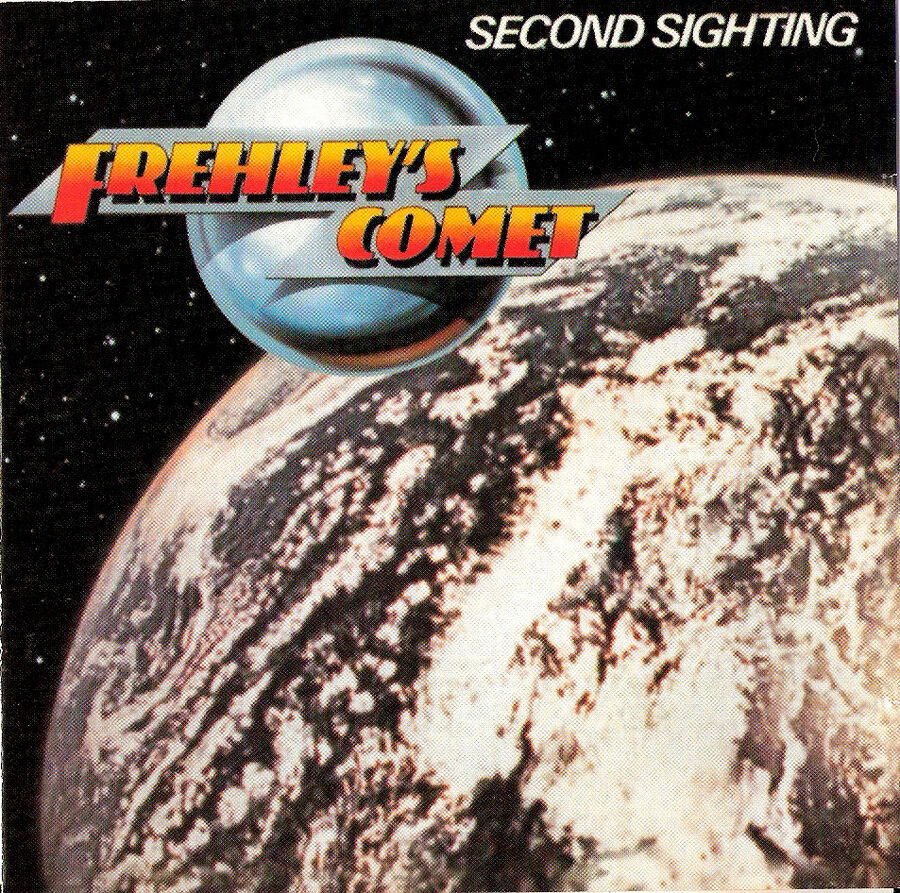 Second Sighting is a studio album by the American hard rock band Frehley's Comet. This is the second out of three LPs put out by Ace in the 80's, but it was the last under the band name Frehley's Comet.
Second Sighting was recorded with new drummer Jamie Oldaker, who had previously worked with Bob Seger and Eric Clapton. He replaced Anton Fig, who would return for 1989's Trouble Walkin'.
"Dancin' With Danger" is a cover version of a song recorded by the Canadian band Streetheart. Although the songwriting credits list Frehley and Dana Strum, the music and lyrics are very similar to the original version.
Tracklisting
[
]
Insane (3:45) - Frehley/Moore
Time Ain't Runnin' Out (3:52) - Howarth
Dancin' With Danger (3:25) - Frehley/Strum/Poffer/Streetheart
It's Over Now (4:39) - Howarth
Loser In A Fight (4:33) - Howarth/Regan
Juvenile Delinquent (5:13) - Frehley
Fallen Angel (3:44) - Howarth
Separate (4:56) - Frehley/Regan
New Kind Of Lover (3:14) - Howarth
The Acorn Is Spinning (4:50) - Frehley/Regan

Produced by Frehley's Comet with Scott Mabuchi.
Executive producers Jon and Marsha Zazula, and Ed Trunk.
Project coordination by John Regan and Ed Trunk.
Recorded and mixed by Scott Mabuchi, assisted by Michael Reiter.
Recorded at Media Sounds Studio, NYC, NY.
Mixed at Right Track Studios, NYC, NY.
Sequencing assistant on track 03, Gordon G.G. Gebert (also 02, 04 & 07).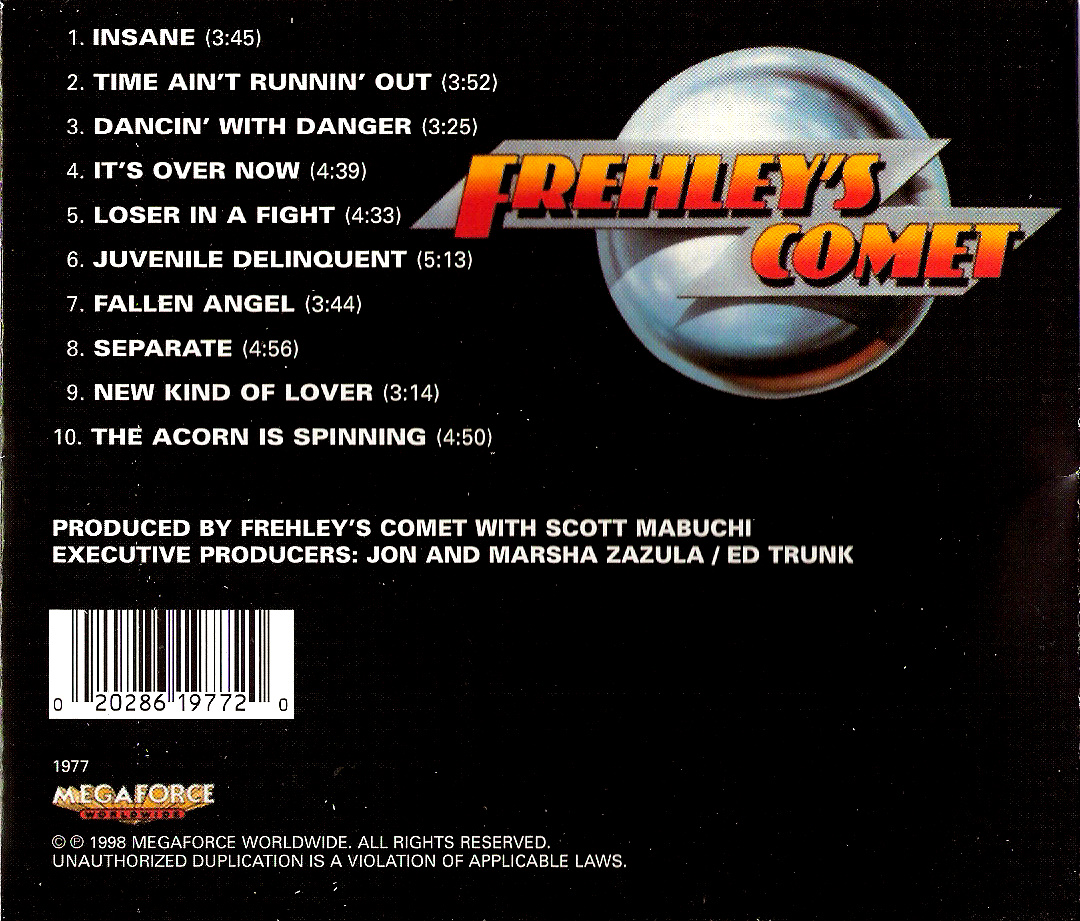 Personnel
[
]
Ace Frehley: guitars, lead & backing vocals
Tod Howarth: guitars, keyboards, lead and backing vocals
John Regan: bass guitar and backing vocals
Jamie Oldaker: drums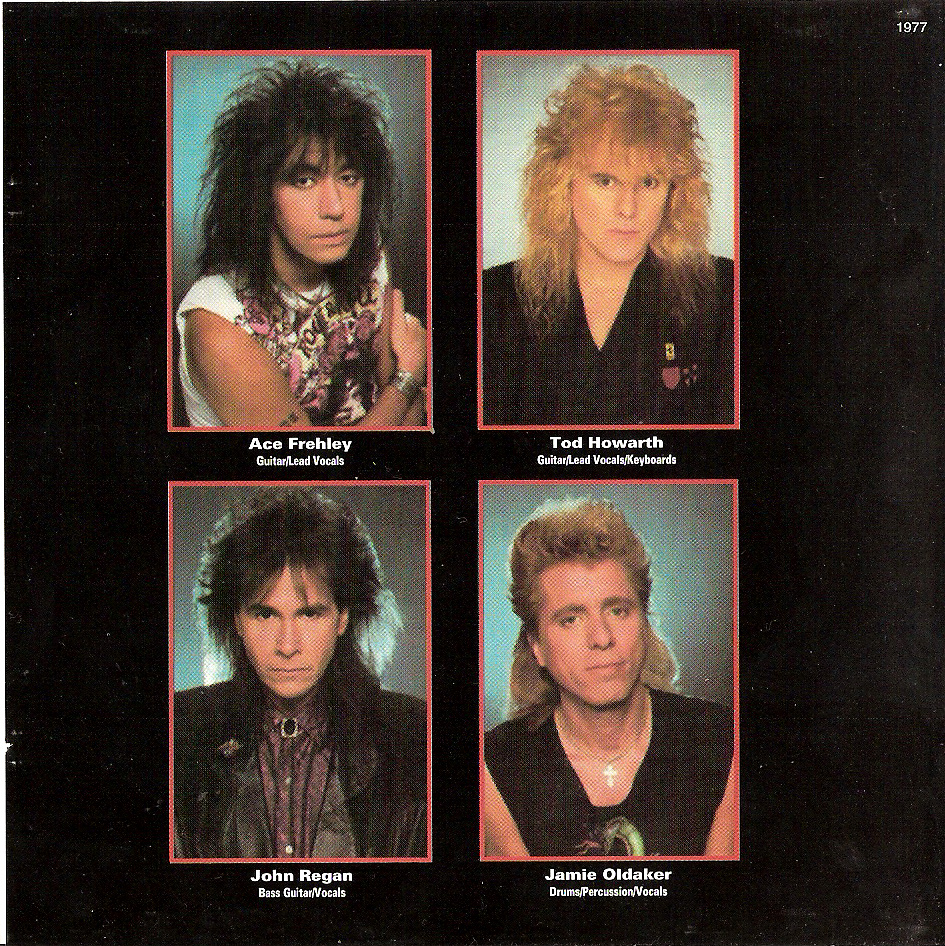 Release Details
[
]
Atlantic/Megaforce 81862-1/2/4 (US, 1988)
Atlantic Megaforce 08420-2/4 (UK Reissue, 4/15/96)