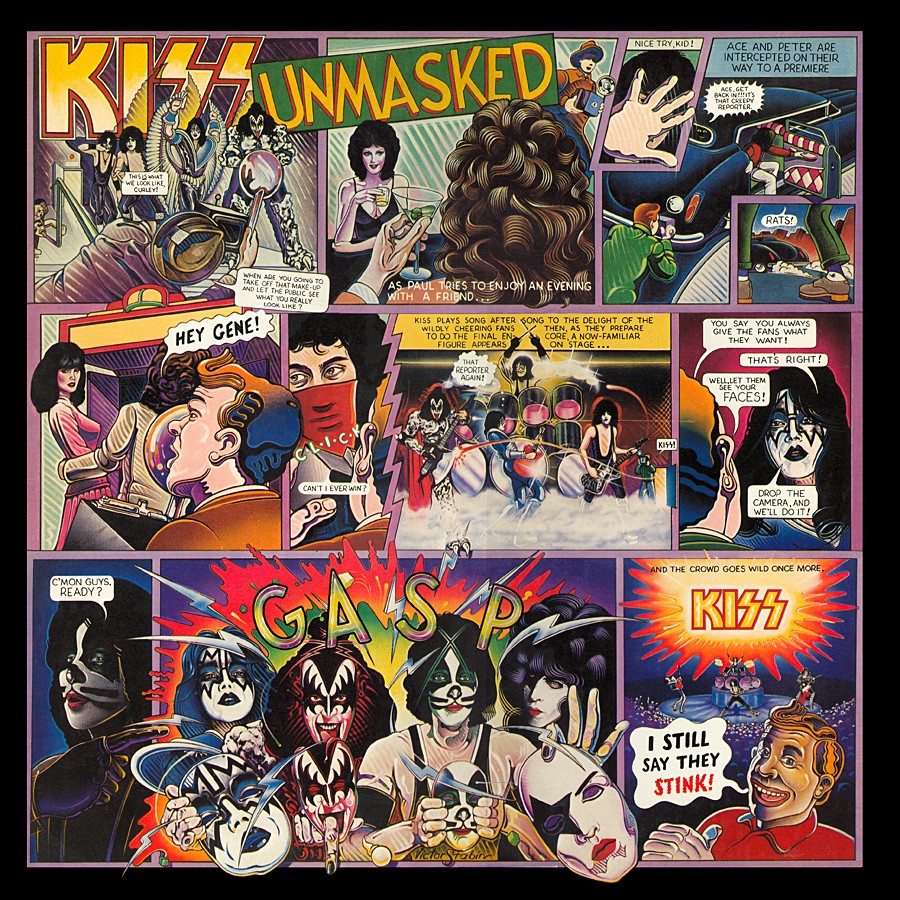 Unmasked is an album by the American band Kiss released in 1980. It is the group's 8th studio album. At the time it was the last studio album from the original lineup of Gene Simmons, Paul Stanley, Ace Frehley and Peter Criss, although Criss actually had no involvement with the recording of the album. Anton Fig (uncredited) played all drums on the album. This album marked another departure for Kiss: this was the first album since 1976's Rock and Roll Over not to feature all members on vocals. (Excluding the four solo releases in 1978)
Although Unmasked marked a major departure musically for the band, the album reached #35 on the U.S. Billboard chart and was certified Gold by the RIAA on July 30, 1980.
The band filmed a promotional video for "Shandi," with Peter Criss. It was the last time Criss appeared with Kiss in any capacity until he performed with them at a Kiss Convention on June 17, 1995. In the band's authorized biography, Criss revealed that he was the last one left in the band's dressing room after filming, and broke down crying.
A lip-synched German television performance of "Talk to Me" and "She's So European" featured the debut of Eric Carr, who became the band's permanent drummer until his death in 1991. The band would play a concert at the now defunct Palladium Theatre in New York to officially introduce Carr as Criss' permanent replacement in the band.
Throughout the years, the album's songs have been largely ignored on live performances - with the exception of "Shandi", which is often played in the band's shows in Australia.
In His Own Words
[
]
"I thought my songs were good. I dont think Paul and gene were that thrilled with the stuff they did or the production of it. You have to realize at this point in time in the band was going through a transition. Peter was leaving the group. Everybody was kind of doing their own thing. For instance, on my tunes I played the bass parts.(Laughs) I wouldnt let Gene play. We were at that point where we really needed to be away from each other. I think Paul might have even played bass on some of his songs. For a lead guitar player, bass isnt really that hard todo. Gene was pretty good about it. He wasnt the kinda bass player that said "I want to do it". I know Keith Richards plays alot of bass on stones records. But Genes a talented guy. Id giove the album three and a half stars".
Quotes taken from the book:

KISS:Behind the Mask

¸
Tracklisting
[
]
Is That You? (3:55) - McMahon
Shandi (3:33) - Stanley/Poncia
Talk To Me (4:00) - Frehley
Naked City (3:49) - Simmons/R. Kulick/Castro/Poncia
What Makes The World Go 'Round (4:14) - Stanley/Poncia
Tomorrow (3:16) - Stanley/Poncia
Two Sides Of The Coin (3:15) - Frehley
She's So European (3:30) - Simmons/Poncia
Easy As It Seems (3:24) - Stanley/Poncia
Torpedo Girl (3:31) - Frehley/Poncia
You're All That I Want (3:04) - Simmons/Poncia
Personnel
[
]
Gene Simmons - bass guitar, lead vocals
Paul Stanley - rhythm guitar, lead vocals, bass guitar on "Tomorrow", lead guitar on "Shandi" Ace Frehley - lead guitar, lead vocals, bass guitar on "Talk to Me", "Two Sides of the Coin", & "Torpedo Girl"
Peter Criss - drums, percussion (credited, but only appears in the promotional video for "Shandi") with
Anton Fig - drums (uncredited)
Vini Poncia - producer, keyboards, backing vocals, percussion
Holly Knight - keyboards on "Shandi"
touring musician
Eric Carr - drums
Release Details
[
]
Casablanca NBLP-7225 (US, 5/20/80)
Casablanca/PolyGram 800-041-1/2/4 (US Reissue, 7/85, CD, 7/87)
Mercury 532-389-2/4 (Int. Remaster, 10/7/97)